Located in Historic Bucks County, Pennsylvania - Just Minutes from the Delaware River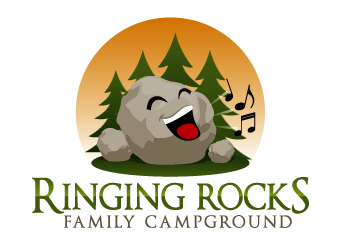 75 WOODLAND DRIVE • UPPER BLACK EDDY, PA 18972 • 610-982-5552
info@ringingrocksfamilycampground.com


Camp Sites

Rates include all fees and local taxes. No hidden costs!
Our family-friendly rates include 2 adults and up to 4 children (17 & under)
Picnic table and fire ring on each site. One camping unit per site.
2 night minimum on weekends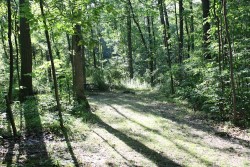 Type of Site
Nightly Rate
Spring/Fall
Apr 9-May 27
Sep 6-Oct 31
Nightly Rate
Summer
May 28-Sep 5
2-Night Holiday Rate
Halloween I & II Weekends
Oct 15-17
Oct 22-24
3-Night Holiday Rate
Memorial Day, 4th of July & Labor Day Weekends
Weekly Rate
Spring/Fall
Apr 9-May 27
Sep 6-Oct 31
Weekly Rate
Summer
May 28-Sep 5

Weeknights
(Sun-Thu)
Weekends
(Fri, Sat)
RV (30 amp)
Water, Electric, Cable
$46
$46
$50
$100
$156
$276
$300
Pop-up (30 amp)
Water, Electric, Cable
$44
$44
$48
$96
$152
$264
$288
RV (50 amp)
Water, Electric, Cable
$48
$48
$52
$104
$162
$288
$312
Tent
Water & Electric
$42
$42
$46
$92
$144
$252
$276
Tent
Water Only
$40
$40
$44
$88
$138
$240
$264
Cabin Rentals
Rustic, one room cabins sleep up to 5 people (max 4 adults per cabin). Each cabin includes a ceiling fan, microwave, mini fridge, propane grill, picnic table and fire ring. Bathrooms, showers and water faucet nearby. Please bring your own linen. No pets or smoking permitted in cabins. Rate includes 2 adults and up to 4 children (17 & under). Security deposit required. 2 night minimum. Must be 25 years or older to reserve.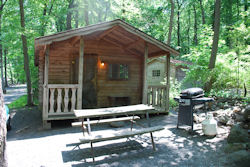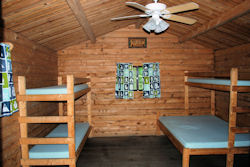 Type of Rental
Nightly Rate
Spring/Fall
Apr 9-May 27
Sep 6-Oct 31
Nightly Rate
Summer
May 28-Sep 5
2-Night Holiday Rate
Halloween I & II Weekends
Oct 15-17
Oct 22-24
3-Night Holiday Rate
Memorial Day, 4th of July & Labor Day Weekends
Weekly Rate
Spring/Fall
Apr 9-May 27
Sep 6-Oct 31
Weekly Rate
Summer
May 28-Sep 5

Weeknights
(Sun-Thu)
Weekends
(Fri, Sat)
Cabin Rental
$80
$80
$90
$180
$276
$480
$540
Fee for Additional Campers
Children (17 & under)
$5/night
Adults (18 & over)
*max 3 adults total per site
$8/night
Check-in/Check-out
Check in time
2:00 pm (RV/tent sites)
3:00 pm (cabin rentals)

Must check in by 9:00 pm
Check out time
12:00 pm
Early check in
$3/hour, if available *
Late check out
$10 to stay until 4 pm, if available *
* Please call ahead to check availability for early check-in and/or late check out

Visitor Policy
All visitors must register at the office and obtain a pass before entering the campground. Visitors must vacate the campground by 10 pm. We reserve the right to limit the number of visitors to a site.

| | |
| --- | --- |
| Children (3 & under) | free |
| Children (4-17) | $3 |
| Adults (18 & over) | $5 |
Camping Specials and Discounts

10% Military Discount
for Active Duty, Guard, Reserve, and Retired Service Members
(valid id required)

RV Monthly Vacation Special
$700 + metered electric

Seasonal rates available at office.


Deposits

One night deposit is required in order to secure your reservation.
Reservation is not held until a deposit is received.
Holidays weekends must be paid in full in advance.


Cancellation Policy

There is a $10.00 service fee on all cancelled reservations.
No refunds for cancellation within 14 days of scheduled arrival.
No refunds for early departure or inclement weather.





75 WOODLAND DRIVE • UPPER BLACK EDDY, PA 18972 • 610-982-5552
info@ringingrocksfamilycampground.com

Home | Rates & Policies | Activities Schedule | Photo Gallery | Nearby Attractions | Campground Map & Rules | Directions | Reservation Requests