Located in Historic Bucks County, Pennsylvania - Just Minutes from the Delaware River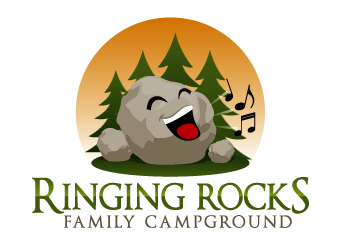 75 WOODLAND DRIVE • UPPER BLACK EDDY, PA 18972 • 610-982-5552
info@ringingrocksfamilycampground.com








Click on the map to view a high resolution version.

Adobe Reader Required
Download free Adobe Reader


Campground Rules & Regulations
These rules and regulations exist in order to provide a safe and family-friendly environment for all our campers and guests. Anyone who violates these rules will be asked to leave the campground without a refund.
Check In/Out: Check in time is 2:00 pm for RV/tent sites, 3:00 pm for cabin rentals. Check out time is 12:00 noon.


Visitors: All visitors must register at the office and obtain a pass before entering the campground. There is a visitor's fee for all guests 4 years of age and older. Please see the Rates & Policies page for our guest rates. Overnight guests must stay in your camping unit. They are not permitted to put an additional camping unit on your site. Day visitors must vacate the campground by 10:00 pm. We reserve the right to limit the number of visitors to a site.


Quiet Hours: Quiet hours are from 10:00 pm until 8:00 am. Please be a considerate neighbor.


Speed Limit: The campground speed limit is 5 MPH and is strictly enforced!


Pool: No lifeguard on duty! All children under 14 must have adult supervision to enter the pool area. Never swim alone. Absolutely no diving, flips, or any other means of entering the pool that is deemed dangerous is permitted. A complete list of pool rules is posted at the pool entrance. Pool rules must be observed at all times.


Supervision of Children: Young children must be supervised at all times.


Children's Curfew: Children 18 and under must return to their own campsite when the store closes. Your children are your responsibility and you will be held accountable for their conduct.


Alcoholic Beverages: Alcoholic beverages are restricted to your campsite.


Smoking: Smoking is prohibited in all rental units including porches and public buildings including the bathrooms and in front of the store.


Vehicles: Limit of two vehicles per site (including guest vehicles.)


Electric Heaters: No electric heaters are permitted.


Firearms: No firearms are permitted on the premises unless authorized persons and/or with permission from management.


Fireworks: Absolutely no fireworks of any kind are permitted.


Off-Road Vehicles: ATV's, motorized scooters, go-carts, etc. are prohibited. Golf carts are authorized, however, they must be insured and driven by a licensed operator.


Bicycles: Bicycles without lights are not to be ridden at night. Bicycles are not to be ridden on the bridge. Please walk your bicycles when using the bridge.


Cutting of Vegetation: Do not cut standing trees or other vegetation. No defacing trees in any way (nails, saws, knives, etc.)


Property Boundaries: No trespassing onto property adjacent to the campground. Trespassers will be expelled from the campground and will be subject to prosecution.


Noise: Radios and music must be kept at a volume that does not disturb neighboring campsites.


Pets: Pets must remain leashed at all times, cleaned up after and quiet. Pets are not permitted in any public buildings including the store and rental units/porches. Pets are not permitted in the playground or the pool area.


Trash/Recycling: All trash is to be deposited in the dumpster by the front entrance. Trash cans are for litter only. Glass, plastic, and cans only are to be placed in a plastic garbage bag amd deposited in the dumpster marked recycling.


Proper Attire: Shoes and shirts are required in the lodge. Shoes are required in the bathrooms.
These rules and regulations are not all-inclusive and additional rules may be added by management as situations arise.



75 WOODLAND DRIVE • UPPER BLACK EDDY, PA 18972 • 610-982-5552
info@ringingrocksfamilycampground.com